Edelweiss De Guzman-Vogel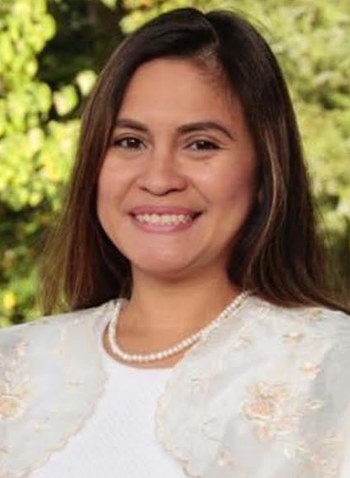 Edelweiss De Guzman-Vogel is a visual artist, freelance designer, and educator. She is teaching visual art at The Brawley, an IB World School. Edelweiss started showcasing her eco-friendly dresses in 2011 and won a few awards from Charlotte Fashion Week and Gaston Arts Council. In 2015 she co-founded a group called The Art Ecologie Group, which advocates for sustainable use of recyclable materials in art and fashion through events like the annual Eco-Fab Couture-crafted outfits 'The Red Stark'. It was made from old magazines and flyers from Opera Carolina and is styled in the exaggerated grandeur of the Baroque period.
The 'Red Stark's' bodice — worn by French model Claudia Thomson who Edelweiss personally picked upon her arrival for the fitting — is made of papier-mâché sculpture. Edelweiss said she learned the technique in making the bodice from the Philippines. "I used the overlapping elements in the composition which is distinct to the Baroque style," Edelweiss said.
To give it an exaggerated look and highlight the dramatic details, the artist in Edelweiss used bright red for the entire dress and created a big white headdress sculpture made of Bristol board or heavy paper. Edelweiss said the Baroque period is characterized by an overly-exaggerated motion and grandeur as found in the sculptures, paintings, literature, and music of that time. On the other hand, Edelweiss's 'Purple Illusion' is inspired by the Expressionist movement.
Edelweiss said the 'Purple Illusion' is a homage to expressionist film and theater as it used form, line, spatial distortion, intense surface texture and rich color juxtapositions to capture emotional response.
She said the expressionist style reminded her of American filmmaker Tim Burton who combined the grotesque or strange with whimsical and childlike elements. The "Purple Illusion" piece is worn by model Elizabeth Victoria. Edelweiss remains more than just a presence in various local fashion shows using recyclable materials.