How Dan Makes Litson
Roasting a pig in the traditional manner is time consuming — from getting the pig (often purchased live) to preparing and cooking it. The traditional method is to stuff the pig with herbs or tamarind leaves, skewer it with a long bamboo pole, and cook it over coals raked in an open pit. The pig cooks for 4 to 6 hours, and the pole is manually turned to roast the pig evenly over the tended heat of the coals. The cooks, usually men, find the occasion to drink their alcohol, smoke, and chat while taking turns with the bamboo.
Everyone likes their litson cooked to perfection, and Dan has high standards to meet: A deep caramel-colored skin color, crispy at delivery, and the aroma of spices at serving are essential. So, of course, is the timing.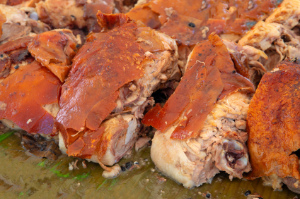 For an 11:00 am pickup, Dan starts at about 6:00 am, preparing a stuffing of chopped lemongrass, green onions, rosemary from his garden, garlic, salt, and black pepper. He packs the belly with the herbs, and then sews it tight with a long curved needle and cotton twine so the cooking juices do not flow out to mar the skin. He uses a small pin to puncture skin blisters and bastes the whole pig with cooking oil, using a brush.
The heat from about two bags of charcoal is regulated as the electric driven rotisserie that can carry a pig of at least forty-five pounds turns, with a meat thermometer to check readiness.
When the pig is cooked, Dan reopens the belly cavity to take out the herb stuffing and removes the rotisserie rod. The roasted pig is then placed on a flat cardboard box lined with plastic to catch the drip and covered lightly to preserve the crispiness and be picked up in time for the party.
Dan "Manglitson" — he helps the community with his engineering know-how, his rotissierie skills, and his desire to cook from head-to-tail a perfect tasty, caramel-colored Litson.